Help! How Do I Pick a Scentsy Fragrance?
What does every curious shopper do in the candle aisle? Yes, it's a pure instinct to pick up each candle, one by one, and find the scents that make you want to spend just a little bit more money at the checkout counter. And then you find yourself playing the role of this woman in the Target commercial…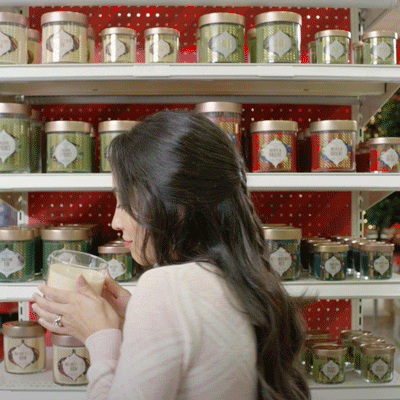 But wait. Candles burn, they send pollutants into the air, and they are predominantly manufactured with potentially hazardous chemicals like toluene and benzene that have been linked to brain damage, lung disease, and central nervous system problems. According to Ruhullah Massoudi, a chemistry professor at South Carolina State University, "For a person who lights a candle every day for years or just uses them frequently, inhalation of these dangerous pollutants drifting in the air could contribute to the development of health risks like cancer, common allergies, and even asthma."
…Ain't nobody got time for that!
Scentsy: A Cleaner Fragrance Alternative
Since Scentsy wax and oils emit amazing fragrances without any wick, flame, smoke, or soot, they are a safer alternative to candles. Scentsy offers nearly 100 fragrances for you to use around your home, office, and car. These aromas span the entire spectrum of long-lasting fragrances, from Aloha Citrus to Vanilla Bean Buttercream, and everything in between.
With dozens of scents to choose from, how are you supposed to efficiently pick a Scentsy fragrance that you love? You actually have a few options to help you discover the scent that will once again turn you into a Target commercial, but this time replace that candle with a wax bar.
Option 1: The Scentsy Fragrance Quiz
Browse the following options to settle on a fragrance that will match your favorite memories, your mood, and your setting. Where does your journey begin?

On Your Taste Buds
You want a decadent dessert…. Blueberry Cheesecake
You want a fresh and fruity treat… Black Raspberry Vanilla 
You want to be a kid again… Sugar Cookie
You definitely need a pick-me-up…Mochadoodle

In a Romantic Moment
Together on a secluded island…. Accidentally in Love
Lost in conversation… Lucky in Love
On a fancy date…. Midnight in Curacao
Somewhere Beautiful and Bright
On a non-stop adventure… Amazon Rain
On a tropical retreat…Honeymoon Hideaway
At the spa… Aloe Water & Cucumber
On the Beach, Of Course
Watching the sunset on the sand… Bonfire Beach
Soaking up the sun… Summer Sunshine
Breathing in that salt air… Ocean
Out in the Country
Walking through the orchard… Blue Hyacinth
Swaying in the hammock… Clothesline
Laundry on the clothesline… Clean Breeze
Option 2: Pick By Category
Scentsy offers a host of categories so that you can narrow down your choice based on preference:
Bakery




Citrus

Floral

Fresh

Fruity

Green

Spicy

Woody

For Men

For Kids

For Women

Spring & Summer (seasonal)

Fall & Winter (seasonal)

Classics



Option #3: Ask a Scentsy Consultant
Just like you trust your favorite hairdresser to turn your bedhead into a stunning style, you can look to your favorite Scentsy consultant to identify your fragrance needs and pair you up with the Scentsy scents that will make you swoon.
Erin Fluharty, the (wo)man behind the curtain at Charleston Scent Duo, has been helping Scentsy lovers find their favorite scents for years. She knows exactly which questions to ask to narrow down your potential options into a list of favorites you are sure to love. Erin also has plenty of samples to help you "test drive" your fragrances. Even better, she knows how to steer you toward discounts and Bundle & Save deals to make sure you make the most of your Scentsy purchase.
So, no need to wander aimlessly through the candle aisle. You can have as many Scentsy fragrances as your heart desires!